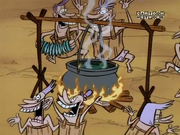 The Headhunters are an insane tribe of people who live in the forests of Oregon whose culture mainly revolves around chopping off heads. They mainly wear large underwear and hollow logs, however some may wear hats, and their favorite pastime aside from headhunting is walking on ice cubes as though they were burning coal. In the episode Headhunting in Oregon, a tribe of Headhunters attempted to cut off Chicken's head with the aid of their chief, luckily they were defeated by Supercow and sent to lumber mill where they were made into furniture.
Ad blocker interference detected!
Wikia is a free-to-use site that makes money from advertising. We have a modified experience for viewers using ad blockers

Wikia is not accessible if you've made further modifications. Remove the custom ad blocker rule(s) and the page will load as expected.