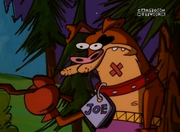 Joe is an old canine boxer living in the woods who Cow and Chicken briefly stayed with while fleeing from the G Man in the final episode The Ballad of Cow and Chicken. Long ago he was in a fight with a poodle named Fred which apparently left him insane. After finding out he was insane, Cow and Chicken left his company soon after. The G Man then arrived and recognized Joe, telling him that Fred was actually paid off and that the fight was fixed since he was there that day. The word "fixed" angered Joe intensely and he proceeded to punch the G Man, with the G Man responding that he should've said "spayed".
Ad blocker interference detected!
Wikia is a free-to-use site that makes money from advertising. We have a modified experience for viewers using ad blockers

Wikia is not accessible if you've made further modifications. Remove the custom ad blocker rule(s) and the page will load as expected.