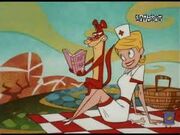 Loulabelle is I.M. Weasel's beautiful assistant and a Recurring Character in I Am Weasel. She is usually seen alongside Weasel in the I AM Weasel segments of Cow and Chicken.
Appearance
Edit
Loulabelle is white with short blonde hair, nurse outfit and white shoes.
Loulabelle has been around Weasel since he was born. And since then she's followed him everywhere and even once dated him.
She looks very similar to the Judge and Mike.
Loulabelle was phased out after first episode of season 3.
Ad blocker interference detected!
Wikia is a free-to-use site that makes money from advertising. We have a modified experience for viewers using ad blockers

Wikia is not accessible if you've made further modifications. Remove the custom ad blocker rule(s) and the page will load as expected.