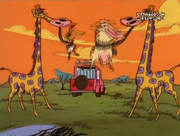 Man-Eating Giraffes are a savage and hostile breed of Giraffe native to Africa that acted as minor antagonists in Grizzly Beaver Safari. In the episode, two of them tried to eat Cow and Chicken but one was itself eaten along with Chicken by a Grizzly Beaver. In the end it was turned into a tank of Giraffe Gas by Supercow along with the Grizzly Beaver.
Ad blocker interference detected!
Wikia is a free-to-use site that makes money from advertising. We have a modified experience for viewers using ad blockers

Wikia is not accessible if you've made further modifications. Remove the custom ad blocker rule(s) and the page will load as expected.