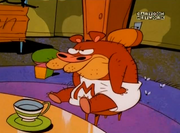 Manure the Bear is one of Cow's dolls alongside Crabs the Warthog and Piles the Beaver. Like his fellow dolls, he is actually alive but only moves when Cow is not around. Manure is a pessimistic doll with anger issues, likely due to the fact that he smells like actual manure 24/7.
Ad blocker interference detected!
Wikia is a free-to-use site that makes money from advertising. We have a modified experience for viewers using ad blockers

Wikia is not accessible if you've made further modifications. Remove the custom ad blocker rule(s) and the page will load as expected.