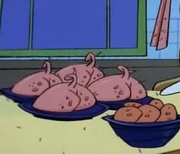 Pork Butts and Taters are the favorite meal of Cow and Chicken. It is essentially fried pork butts served alongside baked potatoes. They can be served on a plate, but traditionally they are served by using a catapult to launch them into the eater's mouth. Pork Butts and Taters are served to Cow and Chicken every Tuesday by their Mom and Dad.
Appearance
Edit
Cow and Chicken
Edit
I Am Weasel
Edit
Ad blocker interference detected!
Wikia is a free-to-use site that makes money from advertising. We have a modified experience for viewers using ad blockers

Wikia is not accessible if you've made further modifications. Remove the custom ad blocker rule(s) and the page will load as expected.